Why Strength Matters
From kids to whole communities, stronger families can benefit everyone.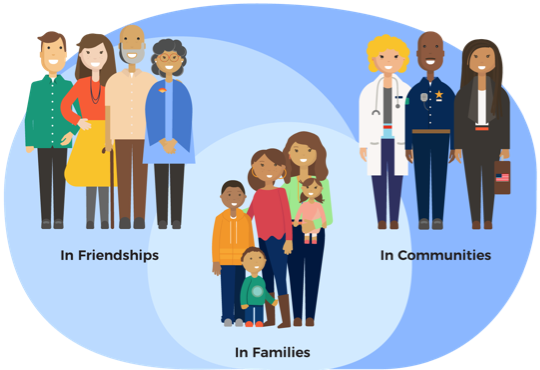 Strong families have a positive effect on the way kids learn and grow. Together, strong families—and the friends and community that surround them—can weather difficulties and care for one another. Strength matters to everyone.
When a family is strong.
Every family is different. Each one learns, celebrates and faces challenges in their own unique way. However, there are a few important characteristics that strong families share:
They're better equipped to meet children's needs.
They're able to weather life's ups and downs together, even when things get tough.
They find support in friends and family around them, and give support in return.
They share strength with their neighborhood, community and society.
---
Strong families strive to support their kids, even when times get tough
Ups and downs are a normal part of family life. When families know how to build on the 5 Strengths, parents are better prepared for the challenges ahead in three important ways:
They have the skills to handle stress.
All families experience times of stress. While the 5 Strengths can't prevent stress, they help parents guide and support kids, so they continue to grow in healthy ways.
They understand how to support their kids' development.
As children change and grow, parents need to be able to adjust. The 5 Strengths can guide parents as they offer support and comfort and help children learn how to behave well, solve problems and understand feelings.
They know it's okay to ask for help.
Needing help is a normal, but that doesn't make asking easier or more comfortable. The 5 Strengths empower families to have the courage to seek help and not see their needs as a sign of weakness.
Supportive friendships strengthen parents, kids and the people they love.
Families can't do it all on their own. To be strong, parents and children need a support system filled with trusted friends, family, coworkers and other caring adults. People they can turn to for encouragement or a helping hand in times of need are priceless resources. Supportive friendships help parents and children care for each other. And strong families can share their own resources with the friends and family that surround them.
---
You can help make a family strong.
Whether you're in a parenting role or not, you can help families grow stronger. There are plenty of ways for friends, family, neighbors and mentors to support families as they build each of the 5 Strengths
Play with a child
Listen without judgment
Share child care or offer to give a parent a break
Show interest in a child's joys and challenges
Help someone find a resource they need
Attend a teen's performance or sporting event
Accept help when you need it
Encourage parents and children by pointing out their strengths
Building a strong family is easier when communities are supportive.
Communities can have a big impact on families when they support family strengths. Unfortunately, the opposite is also true. When a community isn't a source of safety and well-being for its members, it can undermine family strength. Communities don't need great wealth or vast resources to support families well, though providing access to basic services and education is essential. Instead, family-friendly communities create an environment that supports healthy relationships. They foster a sense of belonging and shared emotional connection, and they provide community members with the ability to influence public life and get their individual and family social needs met.
---
What could your community do?
Communities can do a lot to help families build on the 5 Strengths. A strong, supportive community can:
Help families build inner strength
Provide environments where families feel safe
Create beautiful spaces
Develop policies that help reduce family stress
Encourage families to connect with others
Offer opportunities where families can connect
Encourage involvement in events, activities and governance
Seek to identify parents who are isolated
Support families so they know how to find help
Expand access to opportunity through public transportation, quality education and employment
Offer accessible programs and services for children and parents
Build awareness of the 5 Strengths within service systems, like education, law enforcement, business and health care
Help families parent as their children grow
Offer resources and opportunities to learn about parenting
Encourage every parent to participate in parent education
Promote healthy development and preventative physical and mental health care for all children
Support families as they help kids understand feelings
Increase understanding of all types of families through cultural and community events
Offer mentoring, leadership and employment opportunities for youth
Ensure books are available and accessible to all children and families