Helping Kids Understand Feelings
Showing your kids how to name, understand and manage emotions.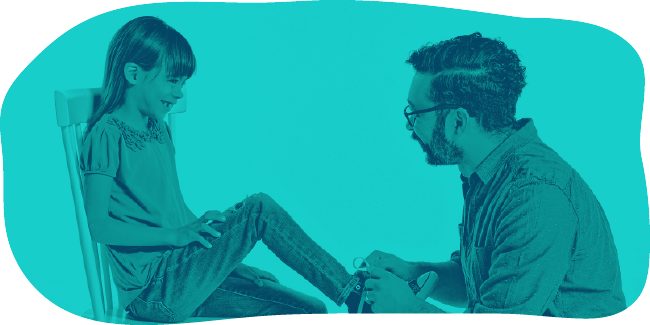 When you help your children understand feelings, they feel safe and valued and develop the confidence to solve their own problems. You may even spend less time managing misbehavior. Children who learn how to express and manage their emotions often do better in school and have stronger friendships. These "social and emotional competence skills" also shape how they treat others and deal with challenges as adults.
Helping Kids Understand Feelings can look like…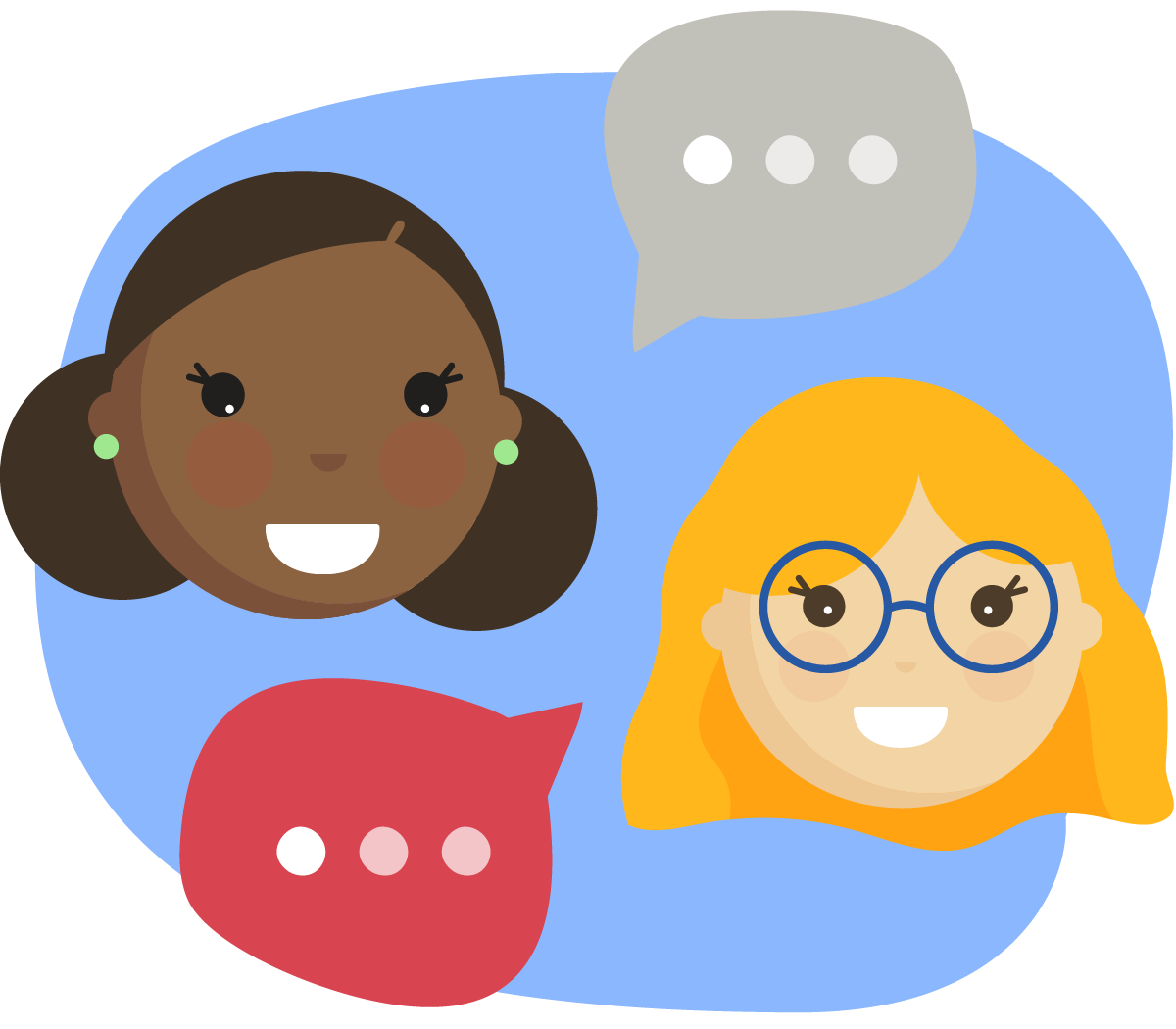 Encouraging kids to solve problems
Listening when kids express their emotions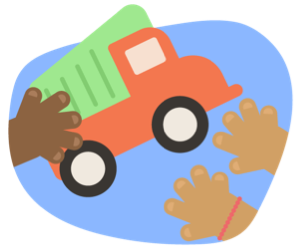 Teaching kids to share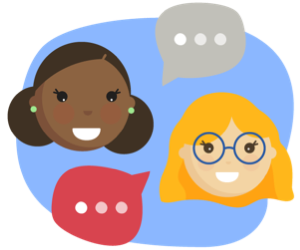 Encouraging kids to solve problems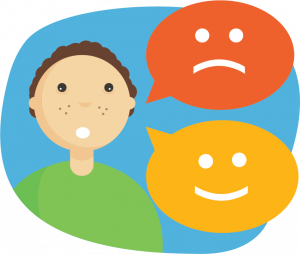 Listening when kids express their emotions
Hear From Parents
Listen as parents and grandparents share how the 5 Strengths are important for their families and why they want other families to understand them too.
Ask Yourself…
There are no right answers. Thinking about these questions can help you understand your family's strengths.
Why do all children need to learn about differences?
Learn More
Some children live in very uniform communities, where most people look similar, talk alike, wear the same type of clothing, and do many of the same activities. When this is the case, it can seem like a low priority for children to learn to understand and appreciate differences among people. However, there are always people who are different in a community and children need to learn how to welcome and include those who don't feel like they fit in. Additionally, many differences are beneath the surface, so there is often more diversity between people and families in a community than we think. Finally, children are living in a global world with technology at their fingertips. They need to know how to relate well to those outside their community, who look, act, and think differently, in order for their world to remain safe and healthy.
When your child has a problem, what do you do to help them fix it?
Learn More
It can be so tempting to jump in and try to fix our children's problems for them. Problems can be frustrating, discouraging and even hurtful. Sometimes parents do need to step in. More often children need the chance to learn how to deal with their feelings and find their own solution. Ask yourself if it is a problem your child can solve for themselves? If so, help your child to clarify the problem, explore possible solutions, think about the pros and cons, and give one a try. Be sure to check back to see how it goes. Be ready to rejoice, provide a listening ear, or take action as needed.
How can you help your child understand feelings?
Learn More
Children learning to understand their own and others' feelings is important for their whole lives! Children learn first from trusted caregivers and that means YOU. What can you do to help your child? Talk about your feelings. Even a tiny baby can sense how their caregiver is feeling. Give a name to the expressions and reactions your child already sees on your face. Make sure that you are honest. If you tell your child that you are not upset when you are, there will likely be signs in your face and body that tell your child you are. This will confuse their understanding. Describe what they might be feeling. Explain what you see on their face and what they are doing that guides you. For example, tell them how their mouth curves up in a smile, their eyes get bigger, and their body dances around when they are happy. Point out what other people might be feeling. You can do this when you are out doing errands, when your child has a playdate, or when you are reading and looking at pictures in books. Gently point out that a crying child in the next grocery aisle must feel sad or how a character in a book who is going to a party looks excited.
5 Steps to Managing Big Feelings:
Remind your child it is never ok to hurt others.
Take 3 breaths or count to 10 sloooowly.
Ask your child to use words to say how they feel and what they wish would happen.
Prompt your child to ask for help to solve the problem.
Encourage your child to take time to calm down.
What to Talk About with Babies and Toddlers:
Talk about

what you're doing and thinking.

Comment on what they are doing or looking at.
Name things they are interested in.
Repeat and add to what they say and do.
Make animal sounds.
Be silly
Find out more at

LENA Talk
 Take Action
Once you understand the Five Strengths and why they are important, you will want to take action and explore how you can build them in your own family.  Check out the ideas and exercises below, or download the Helping Kids Understand Feelings PDF to find more about what to look for, where to learn more and what to do to help your child understand feelings.
Create a Calming Corner
Do your children struggle with strong feelings and have a hard time calming down some days? Try creating a calming corner together. This is a special place where a child can go to relax. It is not place for punishment, but a place to decompress.
Quiet: Find a small, cozy area of your house that is away from traffic.
Comfy: Put in some inviting seating low to the ground – big pillows, a cushioned chair or a soft rug.
Touchable:  Add some things that are appropriate for an angry or frustrated child to slam, squeeze, blow, pull or jump on, like playdoh, pillows, bubbles or stress balls.
Snug: Find objects to crawl under or into, like a small tent, a large box, or a weighted blanket.
Relaxing: Include items that your child finds soothing like music, cloth with different textures, or books to read.
Ready: Make sure to test it out before your child is upset.
Willing: Encourage your child to learn to choose for themselves when they feel they need the calming corner.
Social Skills for Children
In order to be good family members, friends and schoolmates, children have to learn important social skills. It is important for parents to remember:
Learning social skills takes lots of time and practice.
Some skills come easier than others, depending on the child.
Give children frequent, safe opportunities to practice.
Remain patient, but firm.
Here are some essential social skills young children are working on:
Taking turns
Listening without interrupting
Waiting in line
Introducing themselves
Respecting others personal space
Using appropriate tone and volume of voice
Managing their feelings in public
Learning please, thank you, no thank you, excuse me, and I'm sorry
Showing kindness
Breathing Games to Calm Your Child
Deep slow breathing is nature's way of relaxing the body. You can teach your child to use breathing as a tool to help them calm down when they need it. Practice these breathing games with your child while they are relaxed so they are able to use them when they are not.
Star breathing – Stretch your child's hand out like a star. With the pointer finger of the other hand, slowly trace each finger up and down. As they slowly slide their pointer up the finger of their other hand, have your child breath in. As they slowly slide their pointer back down the finger, have them breathe out. Continue to trace each finger on their hand until they are calm.
Bubble breathing – Tell your child to imagine that they have a bubble wand in their hand. Have them slowly take a breath in through their nose and then slowly let the breath out as if they are blowing a bubble. You can have them practice with real bubble first, to get the idea.
Dragon breathing – Have your child sit straight up, then breathe in through their nose counting 1,2,3. Hold that breath counting 1,2. Then breath out pretend fire as hard and long as they can, whispering a dragon roar.
Bunny Breathing – Ask your child to hold up their "paws" like a bunny. Then take three quick bunny breaths and blow out one long breath. Follow with a hop and repeat.
Explore Feelings With Books
Books and stories can teach children a lot about feelings, whether it's a picture book or a story you make up on your own. Plus, cuddling with your kids during story time also helps children feel connected and valued.
Label feelings: Help children identify the expressions of
characters, such as smiles, a scrunched face or tears and
connect them to the names of emotions—happiness, anger,
sadness.
Practice responding to other's feelings: "What would you
say if your friend lost his toy?"
Take another's perspective: Help your child put themselves
in the place of the character. "How does the girl feel when
her mom comes home?"
Talk about character traits with older kids: Discuss ways
that the characters show kindness, foolishness or persistence.
More Information
The Gifts of Imperfect Parenting Brene Brown, the author of this book and many others, has spent over 20
years studying emotions. She is also a very dynamic speaker with many videos available on You Tube. A free
recording of Brene Brown reading this book is available if you have Spotify or check your public library.
Raising Caring Kids This website features short, downloadable online articles and videos, which contain
information to help parents support the social and emotional growth of their elementary age children.
Search online for terms* like …
• Social and emotional competence
• Emotional regulation
• Self-regulation (self-control)
• Relaxation techniques
• Mindfulness
• Meditation
*Add the word children or kid to the term, unless you are searching for yourself.
Talk to a …
• Parent educator at a Family Resource Center
• Doctor or nurse
• School guidance counselor or school psychologist
• Early childhood or childcare provider
• Teacher
For more intense needs ask your physician about a …
• Counselor
• Behavioral Health Specialist
• Neuropsychologist
Thank you!
Thanks for taking the time to tell us about your family. We are unable to publish every story and stories will not appear immediately after being submitted. Stories may be edited for length and context. Also, stories may be incorporated into other Prevention Board resources and materials. Questions? Learn more about our Policy on Further Disclosure or Use.
The Wisconsin Child Abuse and Neglect Prevention Board may use or share my story or any part of it for public awareness and educational purposes. I also understand the Prevention Board may edit my story for length or content. By granting my permission, I release the Wisconsin Child Abuse and Neglect Prevention Board, its employees, directors, and agents from any liability related to the disclosure or use of my story or any part of my story.
We appreciate you taking the time to tell us about your family. We are unable to publish every story and stories will not appear immediately after being submitted. Stories may be edited for length and context. Also, stories may be incorporated into other Prevention Board resources and materials.