Helping Kids Understand Feelings
Showing your kids how to name, understand and manage emotions, express themselves and get along with others.
When you help your children to understand feelings, they feel safe and valued and develop the confidence to solve their own problems. You may even spend less time managing misbehavior. Kids who learn how to express and manage their emotions often do better in school and have stronger friendships. Children's social and emotional competence also goes on to shape how they treat others and deal with challenges as adults.
Helping Kids Understand Feelings can look like…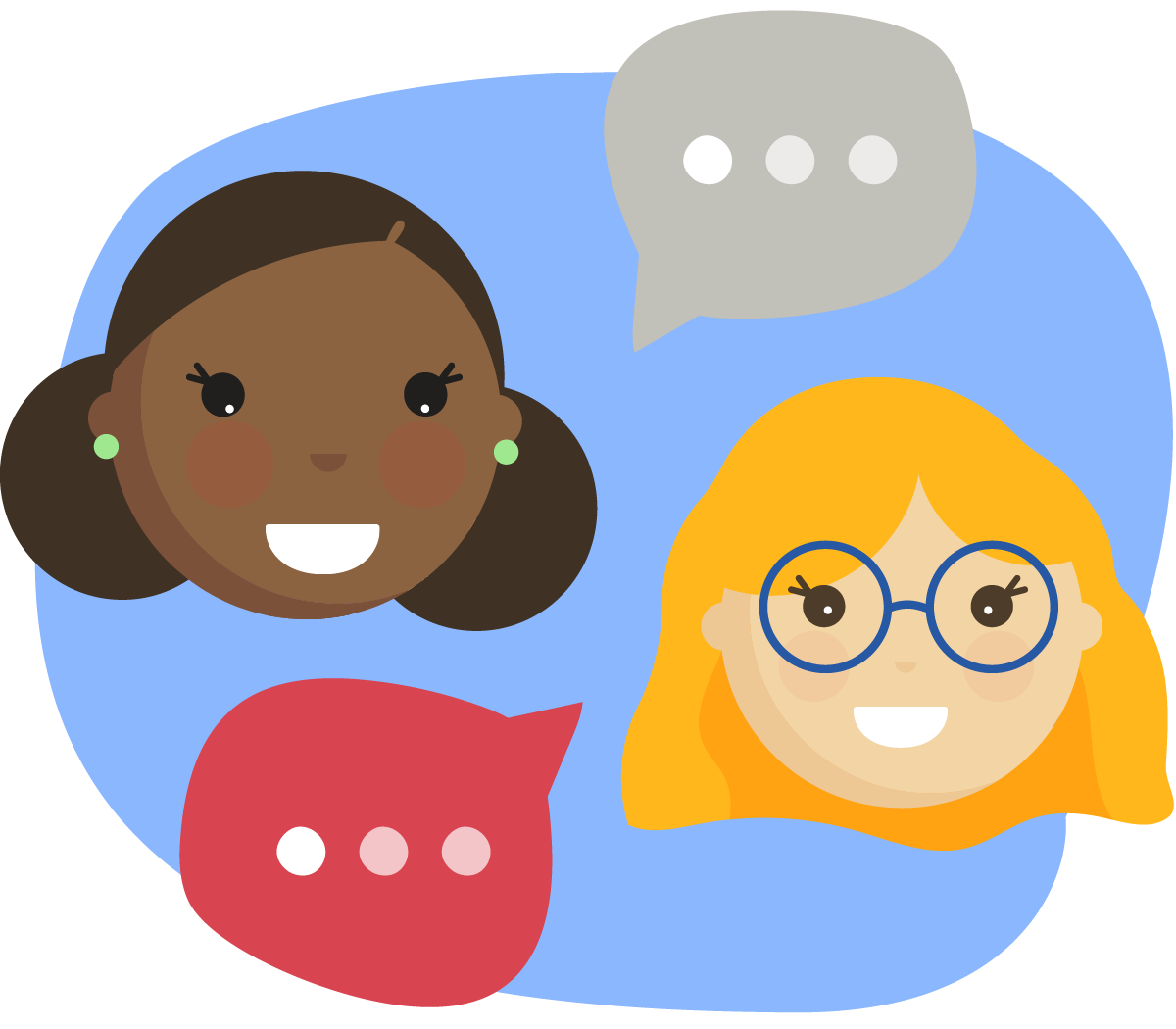 Encouraging kids to solve problems
Listening when kids express their emotions
Teaching kids to share
Encouraging when kids express their emotions
Listening when kids express their emotions
Ask Yourself…
There are no right answers. Thinking about these questions can help you understand your family's strengths.
When kids get mad, frustrated or start yelling, is it hard not to respond in the same way?
Flip to Learn More
It can be hard to stay calm when your child is having a meltdown. But kids rely on parents' self-control when dealing with their own strong feelings. When you stay calm, it can calm them. Children also learn by watching and copying your behavior. When you soothe them, they learn to expect and give comfort. When you show others kindness, kids learn to do the same. And when you become impatient or yell, children mirror that, too. Managing your emotions and letting your actions speak for you is one of the best ways to guide your child's behavior.
Back to Question
Do you know a variety of strategies for helping your child understand and manage their emotions?
Flip to Learn More
Very young children, even babies, learn how to recognize feelings. When they're upset and you soothe them, they learn to expect and give comfort. Providing children with a comforting routine at bedtime, giving them a toy to cuddle when they need to calm down, or pointing out the emotions of a child's favorite book characters are all ways to help little ones understand and cope with feelings. As kids grow, they can become more skilled at identifying and communicating emotions and managing feelings. Teaching them calming strategies like slow breathing and positive self-talk can help.
Back to Question
Do you provide your child with opportunities to build social skills?
Flip to Learn More
Children learn many important things about feelings and behavior from their parents every day. But having the time and opportunity to learn social skills from other children is equally important. Kids learn through play, so spending free time with other children in their age range helps teach them how to get along with others. In adolescence, time spent socializing can help teens learn the subtle skills they will need to successfully interact in the adult world.
Back to Question
Try This
Now that you understand the Five Strengths and why they are important for all families, you may want to explore more about how you can recognize and build them for your own family. Explore the ideas and exercises below, or go to the Next Steps page to find resources that can help guide you as you explore what to look for, where to learn more and what you can do to build each of the Five Strengths.
Provide Positive Messages
Children need to hear positive messages from you every day. Encouraging words and gestures promote good behaviors and teach kids how to treat others with kindness. When it comes to positive messages, how you say it is as important as what you are saying.
Share your feelings: Focus on the things you enjoy about your child rather than their accomplishments. Write a note that says, "I love you," offer a spontaneous hug or say that you enjoy being with them.
Observe and comment: Show up. Give your attention. Focus on the effort rather than the result. Acknowledge accomplishments by stating what you see: "You did it … you tied your shoes!"
Limit praise: Telling your child they did a "great job" or that you are proud of them too often can actually take away their sense of personal accomplishment.
Reinforce the good: Call out specific positive behaviors that you would like your child to repeat: "Thank you for setting the table."
Use Books to Explore Feelings
Books and stories can teach children a lot about feelings, whether it's a picture book or a story you make up on your own. Plus, cuddling with your kids during story time also helps children feel connected and valued.
Label feelings: Help children identify the expressions of characters, such as smiles, a scrunched face or tears and connect them to the names of emotions—happiness, anger, sadness.
Practice responding to others' feelings: "What would you say if your friend lost his toy?"
Take another's perspective: Help your child put themselves in the place of the character. "How does the girl feel when her mom comes home?"
Talk about character traits with other kids: Discuss ways that the characters show kindness, foolishness or persistence.
Activities to Explore Feelings
Here are some activities that you can use to help your child identify and learn about feelings.
Make a Face: Ask your child to guess what you are feeling by looking at the expression on your face. Share some things that bring out that emotion.
Emotion Book: Have your child select one emotion and help them create a simple picture book of things that make them feel that way. Staple together sheets of paper and add drawings or pictures cut from magazines.
Mirror, Mirror: Look in a mirror and say, "Mirror, mirror what do I see? I see a happy mommy looking at me." Make a happy face in the mirror. Then give your child a turn to do the same.
Build a Face:Draw and cut out eyes, noses and mouths with different expressions. Have your child put them together to make a face and tell you how that face is feeling.
Crafts to Manage Feelings
Here are some things that your child can make and use to communicate and manage their strong feelings.
Helping Hand: Trace your child's hand on a piece of paper. Help them write or draw one thing they can do to cool down on each finger. Then when they get angry or upset, have them hold up their thumb or their pinky as a reminder of a way to calm down.
Stress Ball: Using a funnel, fill an uninflated balloon with flour and tie it off. Your child can squeeze this homemade stress ball when they are feeling anxious or upset.
Artwork: Have your child label colors as different emotions and paint a picture using the colors that represent how they feel.
Thank you!
Thanks for taking the time to tell us about your family. We are unable to publish every story and stories will not appear immediately after being submitted. Stories may be edited for length and context. Also, stories may be incorporated into other Prevention Board resources and materials. Questions? Learn more about our Policy on Further Disclosure or Use.
The Wisconsin Child Abuse and Neglect Prevention Board may use or share my story or any part of it for public awareness and educational purposes. I also understand the Prevention Board may edit my story for length or content. By granting my permission, I release the Wisconsin Child Abuse and Neglect Prevention Board, its employees, directors, and agents from any liability related to the disclosure or use of my story or any part of my story.