Parenting as Children Grow
Learning to support your child's growth at every age and stage.
It's easy to feel like knowing how to be a great parent should just come naturally. But the truth is, every family learns as they go. And while kids don't come with instructions, there are stages to growing up. A knowledge of parenting and child development can help you set realistic expectations, encourage positive behaviors and feel prepared for new challenges as children change and grow.
I went to the parenting classes to be a better parent for my kids, and I want them to be better for their own kids, eventually."
-Cassy
Parenting as Children Grow can look like…
Trying different strategies for managing behavior
Looking for parenting information, tools and ideas
Knowing how to nurture kids as they grow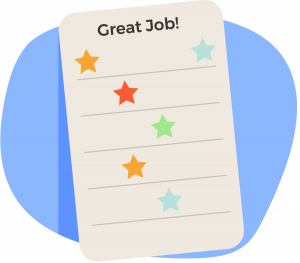 Trying different strategies for managing behavior
Looking for parenting information, tools and ideas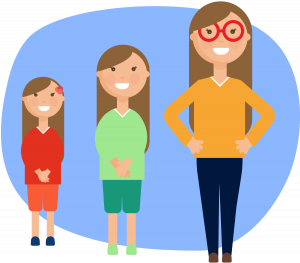 Knowing how to nurture kids as they grow
Ask Yourself…
There are no right answers. Thinking about these questions can help you understand your family's strengths.
Do you feel like you know what to expect as your child grows?
Flip to Learn More
Being able to recognize developmental milestones (the way children play, think, learn, speak, act and move at certain ages) can be useful for you and your child. As your child's first and most important teacher, you want to know what to watch for so you can support their learning. Plus, having realistic expectations based on your child's age will help you avoid frustrations and enjoy your time together more.
Back to Question
Do you ever obsess over parenting mistakes?
Flip to Learn More
Expecting yourself never to make mistakes is unrealistic. Luckily, kids don't need perfect parents. Acknowledging the missteps you've made—by taking responsibility for your actions and by making a plan to make things better—can actually build your confidence. Even better, you show your kids how to admit to mistakes, recover from them and treat others with honesty and kindness.
Back to Question
Do you know where to turn when you're not sure what to do about a parenting issue?
Flip to Learn More
When something has worked in the past, we tend to stick with it. That can leave parents struggling when children or challenges change. Filling your family toolbox with a wide variety of parenting strategies and resources can help. Parent education classes and groups are a great way to learn tried-and-true approaches from people who work with parents and kids every day. Ask if a parent education class is "evidence-based" or "evidence-informed"—these descriptions mean a class has had proven results for parents.
Back to Question
Parenting as Children Grow takes trying new things.
False starts and setbacks are a natural part of growing up—for children and parents. The important thing is to keep learning about Parenting as Children Grow and to consider trying a new parenting idea.
FIVE FOR FAMILIES IDEA
Parenting on the Go
Having interesting things to do supports children's learning and prevents problem behavior. With a little preparation, you can share quality time with your child when you are out and about.
Get equipped: Pack a bag of toys, books or art supplies that you can take anywhere.
Play while you wait: Play, draw or read together in long lines and waiting rooms.
Enjoy the ride: Bus or car trips are a great time to talk, tell stories or play "I Spy."
Share daily chores: Talk to your baby as you do errands, encourage little ones to help and allow older kids to share decision making.
FIVE FOR FAMILIES IDEA
Words Matter
To grow and develop, your child's brain needs to hear thousands of words every day from the time they are born. Luckily, parents, siblings, caregivers and relatives are all rich sources of conversation. Talking together teaches kids new words and helps them learn to communicate and solve problems.
Describe your world: Narrate the everyday things you see and do for babies.
Stop and listen: Take a few moments. Give your full attention. Set aside times for longer conversations.
Keep it going: Ask questions, give kids time to respond and build on what they know with new words and information.
FIVE FOR FAMILIES IDEA
Create Daily Routines
Children feel more confident and cooperative when they know what to expect. Adding structure to your day can prepare kids for transitions-like bedtime-and help you both move more smoothly through the day.
Schedule it: Set times and an order to activities like meals, naps, homework or bedtime. Allow older kids to have choices.
Share it: Tell your kids the plan, step by step.
Display it: Posting a chart or a list on the wall can be a helpful reminder, both for you and for your child.
Prep for it: Alert kids a few minutes prior to starting a routine to get them ready for a change.
Stick with it: When you get off track, try again.
The 5 Strengths are also called Protective Factors.
The language some people use to describe the 5 Strengths may be different. They are also called Protective Factors. But no matter which words you use, research has shown how important these strengths are for families as they navigate the challenges and joys of daily life.
Parenting as Children Grow
Knowledge of Parenting & Child Development
Strong families are important.
Strong families support their friends, their communities and future generations.